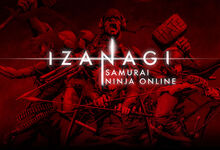 Welcome to the Izanagi Online (English) Wikia
Edit
This is an unofficial Wiki for the English release of Izanagi Online. It's maintained by the Guild 1-800-Party. If you would like to contribute to the Izanagi Online Wiki, always double-check that information and content is 100 % accurate to the English version of the game. Let's do our best to build a fantastic resource for this awesome game, so the Izanagi community can continue to grow!
Getting started
Edit
Write a description about your topic. Let your readers know what your topic is about and add some general information about it.
Character Classes
Edit
Items & Equipment
Edit
Locations
Edit
Credits and Links
Edit
Most of the information on this wiki comes from Izanagi Forums, japanese Izanagi Wiki and personal research.
You can help by submitting info and/or screenshots, registration is not necessary.
Latest activity
Edit
Photos and videos are a great way to add visuals to your wiki. Find videos about your topic by exploring Wikia's Video Library.
Ad blocker interference detected!
Wikia is a free-to-use site that makes money from advertising. We have a modified experience for viewers using ad blockers

Wikia is not accessible if you've made further modifications. Remove the custom ad blocker rule(s) and the page will load as expected.